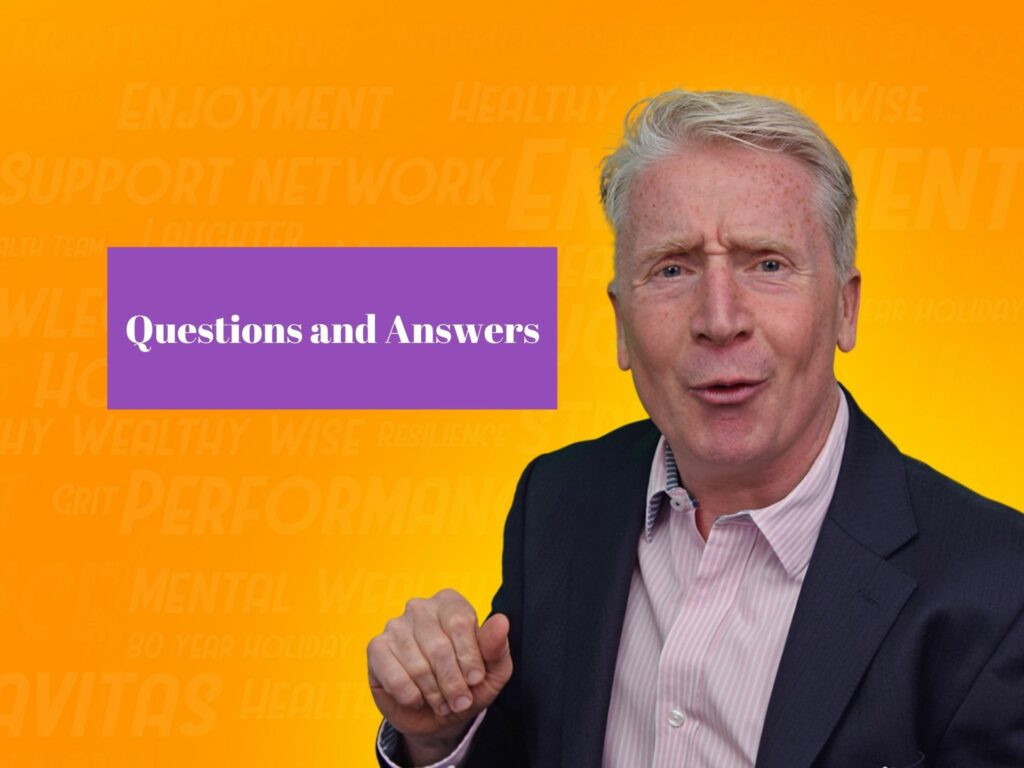 So many of the situations we get ourselves into, positive and negative, are direct and indirect results of an action or a lack of action. In other words, our choices! Some would say that it's down to wisdom, maturity and experience, but is it? How often do you ask the right question, listen without prejudging and trust your gut feel when it comes to supporting others and looking after yourself?
The subject of mental health, depression and suicide are still avoided by so many; there is much work is to be done, and a lot of this stems from asking more questions and listening to the answers. I have challenged people to focus on simple areas that, when ignored, can negatively affect our focus, success, and mental well-being.
We can all ask better questions of those around us and more importantly, empower others to ask better questions of ourselves. Consider those questions you keep away from asking or just being honest about the true answer that you are avoiding or hiding away from. Many of us struggle to ask for help for fear of appearing weak or because of pride.
When someone else asks a different question, it is because they are viewing the environment through a different lens. That doesn't have any bearing on right or wrong, strong or weak it is simply an alternative opinion or seeking further explanation. Questions are good; we need to ask more!
Here is one way to ask a better question or just a simple question of someone in your network – How are you? It's time to step up! Trust your gut feel, do not wait for something to happen before you act; if you think you could or should reach out to someone – DO IT. There is no prize for stalling or avoiding the uncomfortable, just get on with it and pick up the phone, do not text, nudge, thumbs up or post on their media – PICK UP THE PHONE AND CALL THEM!
One of the essential elements of coaching I learned many years ago was not to prejudge situations and decide too early what the answer was. This happens all too often when people stop listening to the issue or situation being described because they have either already come up with their solution or they have gone off on a totally different tangent. They are fundamentally just waiting for the other person to stop speaking so they can say whatever brain wave they have, which may or may not be relevant. They are clearly not listening.
Recently I was involved in a residential programme by the outstanding Maydays improvisation troop. One of the classes was called the Game of the Scene where the audience members were looking for the patterns within the scene; these patterns were either the underlying theme or the comedic element. Nine times out of ten, the audience noticed the patterns a long time before the performers could see them. When you are working with colleagues, friends and family take the time to find out what they are really trying to say without interrupting, while you may have seen the patterns before they do. Being a good listener will win your firendships, trust and respect which you are almost guaranteed to lose if you choose to tune out or stop listening.
Questions and Answers is the title, we need to ask more and better questions and listen properly to the answers. The working world has changed; the priorities of business owners and leaders have shifted away from one-dimensional wealth to what truly matters. It's no longer just about the zeros in a bank account. This is demonstrated by staff leaving because their moral compass, ethical boundaries or values no longer match those of the company. Companies risk losing great staff and future leaders if they fail to ask the right questions or listen to their feedback.