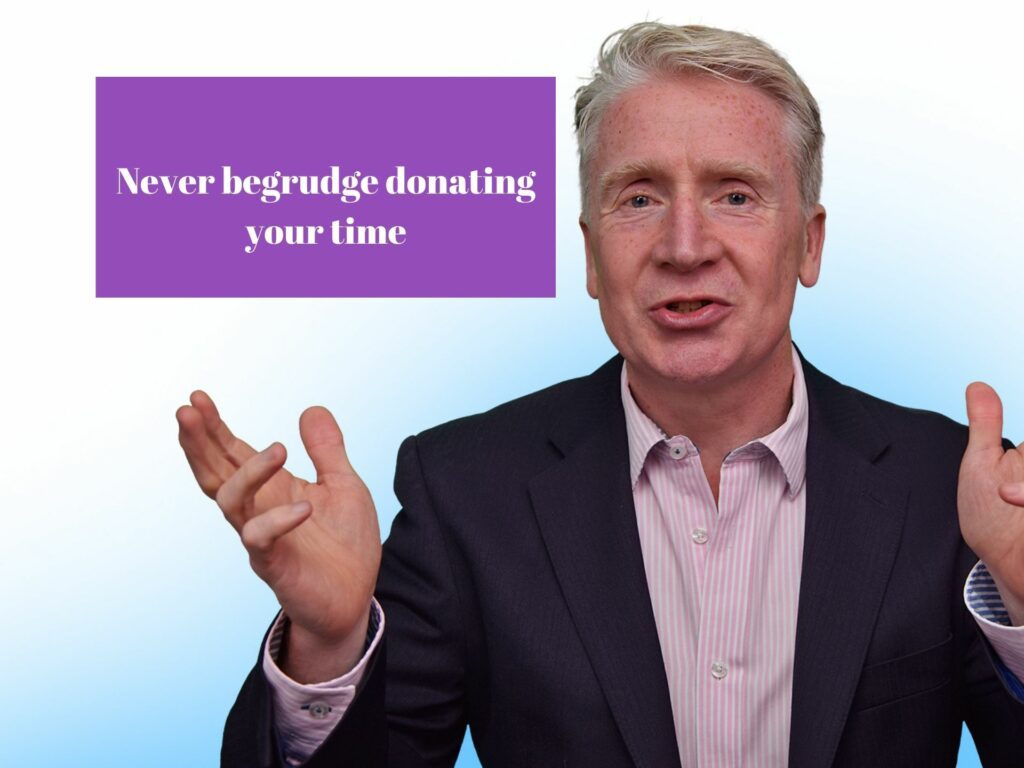 Never begrudge donating your time
Volunteer, philanthropic or unpaid board positions – they are good to do when you have the time, incliniation or desire and when we take on these roles, they have to work both ways. If there is any risk of you begrudging the hours you have to donate, then either the time isn't right for you now, or the role doesn't fit; if this is the case, walk away.
There are so many situations where you might donate your time – volunteering for a local charity, helping a friend, taking on an unpaid chair role or cleaning out the village hall after the annual fete. These are all roles that take time and energy away from other activities you choose to do. You have to decide whether they're the correct positions for you, no matter what the title of the role or the emotional pull. You never want to be in a situation where you begrudge donating your time.
Years ago, I was invited to be part of a board of directors and it was at this time I first received and understood this advice from one of my mother's great friends from Canada. When discussing the pros and cons of joining the board, the question was given to me quite simply, could I afford to donate all the time necessary to make it work properly? The word "properly" was a reality check for me as I hadn't figured out my budget and how many hours I was comfortable donating. I categorically didn't want to look amateur or my systems and ideas to look rubbish, as that would negatively reflect on my reputation and status. I wanted to give it my best possible effort.
We all want to be seen in the best light and have positive things said about our work, especially if it is a philanthropic or unpaid role. In that particular situation, I categorically wasn't ready for the role mentally, personally or financially within my business. I simply couldn't afford to donate the time necessary to do the role well, so I didn't take it, and walked away. It was in hindsight absolutely the right decision.
The same applies when you are volunteering for a local charity, I've written before about my family's volunteer work with the Guide Dog Association here in the UK. We have to make sure that all our time and energy spent fits in with everything else that is going on in our lives. The two months of total mayhem of looking after cute little puppies has a massive impact on our lives, both as a family and as individuals. Feeding puppies every four hours sounds onerous, now add to that the reality of what you put in to the pups comes out of the pups, and it's constant. We thought long and hard about the time we needed to carry out this role well, discussed it as a family and made the decision together as a family. The question is, can you afford to donate the time required and make potentially big sacrifices for a volunteer role?
One other area is the reality of project creep issues and the ever-demanding client or benefactor of your efforts. If you currently invest in or are considering investing or supporting young organisations in some form of angel investment, the key question is how much financial support do they actually need or is it really smart money they require rather than cash. The difference between the two is massive; you see it on the TV with Dragons Den and Shark Tank where the organisations are so young that they need IQ, cleverness and support so much more than a bag of cash to help them get going. In the real world, you may start to begrudge their need for more help and time than you are willing or able to donate, which in turn can lead to a souring of the relationship. If they need more time than you're ready or willing to give, more financial support or more connections, then walk away.
What happens when it goes wrong? I have fallen out with certain people, it happens, we all do at times and that can be uncomfortable for all involved. A former colleague of mine failed to build the support team around her when taking high office in a volunteer role and as a result, felt unappreciated, and she left the organisation as soon as her time in the chair came to an end. With a little bit of foresite we can avoid these challenging situations and work with those that truly appreciate our efforts
This is all part of proactively looking after your mental wealth and having the right people around asking better questions of you than you ask of yourself and making sure that you're donating your charitable and philanthropic effort in the right places. Nobody wants to be over-generous, taken for a ride or taken advantage of. Good people asking better questions might just prevent you from being sucked into something that's more about an ego rush, rather than actually benefiting all parties involved.